If your plans are to build a multi-family home, apartment building, high-rise, commercial office building, or another type of large commercial project, you may consider a commercial construction loan.
Unlike most other types of loans, commercial construction loans are not paid to the borrower upfront in one lump sum. Instead, the loan is drawn upon as certain benchmarks of the project are completed. These benchmarks are laid out in advance, as a draw schedule, while the loan is being considered. As a result, the plans for payments differ according to the project and the lender. Examples of some typical benchmarks in the draw schedule include clearing and developing the land, pouring the foundation, framing the building, and purchasing required equipment.
The loan is drawn in amounts agreed on upfront for each step as it is completed. Almost certainly, the lender will require a professional inspection before a given draw-down of the loan is approved.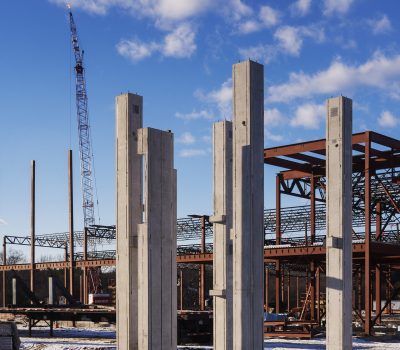 Here are some things you will need to speed the process:
Project Business Plan
The plan should address the financial feasibility and marketability of the project. Including sources and uses of funds schedule, current/projected rent roll, and copies of executed leases and/or pre-leasing agreements. Also historical financial results, projected operating statement, evidence of a plan and source for loan repayment, and resumes of your development team.
Financial Data
You will need to provide all standard financial data. This includes three years' financial statements and tax returns of the borrower and the opening balance sheet for newly formed entities. You may also need a personal financial statement and three years of personal tax returns.
Project Data
Key project details must be provided including the site plan, the project cost detail, construction and architect contracts, municipal works agreement, Federal/State/municipal approvals, contract for the sale of land and a copy of the deed.
Environmental Documentation
The Borrower's Questionnaire is required with the application and the Satisfactory Phase I Environmental Report is required prior to closing.
Contractor Data
Contractor references with locations of prior projects, as well as a bonding reference will be needed.
Organization Documentation
Be prepared to have documentation for the organization seeking the loan. Including the partnership agreement, joint venture agreement, corporate bylaws, corporate resolution, and LLC agreement, as applicable.. 
Need professional advice and guidance? We're here to help!